When choosing a swimming pool for your garden, there are lots of factors to consider. What size you want, the shape, step design and also the material.  
Our Dura Polymer Swimming Pools are made using Polymer sheets. They are welded using modern technology. Our Polymer Pools can be supplied as a one-piece pool or as a bespoke option.
What are One-Piece Pools?
One-piece pools come in all shapes and sizes and are becoming one of the most popular pool designs that families are opting for. They can provide unrivalled elegance and will give you a unique pool that will be the envy of all your guests.  Some examples of a one-piece pool are as follows:
Polymer Overflow Pools
The Dura Polymer Bespoke Overflow Pool, also known as a deck level pool, is when the water sits level to the surface edge.  Imagine the swimming pools you only ever expect to have the luxury of enjoying when travelling abroad! You will have the impression of an edgeless infinity swimming pool.
Polymer Skimmer Pools
The Dura Polymer Skimmer Pool is completely unique in design.  The word skimmer refers to the water level and can be located at the side of the pool.  The water filters out of the pool and then back through return jets.  Filtration is important and should become a regular process for your pools maintenance regime. A Skimmer Pool can be customised depending on your requirements.  You can be assured that your pool will be extremely durable and last for many years to come. 
Lap Pools
Swimming Pools are often used for entertainment, but they are also beneficial for those who are health conscious.  With our Lap Pools, you have the option of swimming lengths, side by side.  You can modify the pool to your taste. There will still be plenty of room for children to play!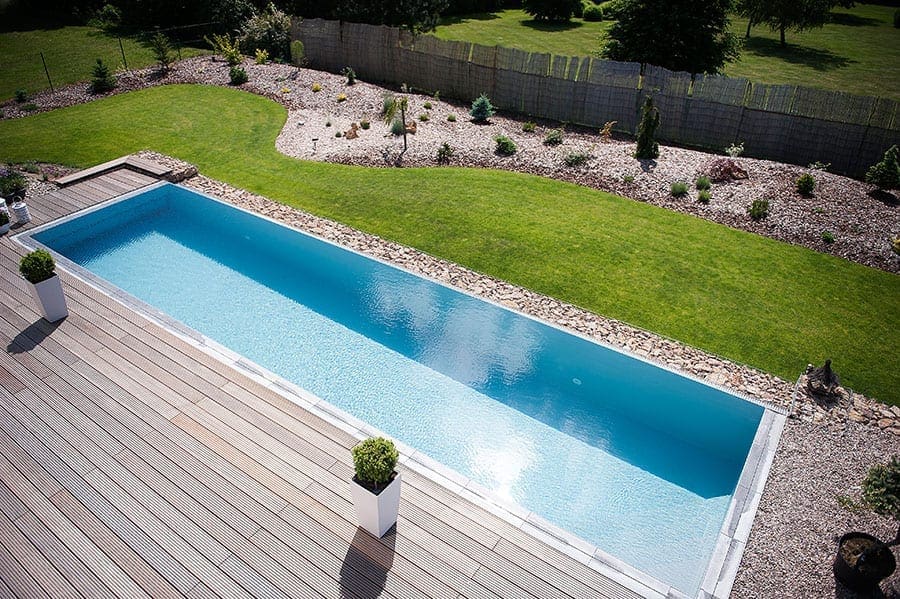 Dura Polymer Pools with Coloured Steps
Every swimming pool should have a durable entry system.  Not only is this important for safety, but it will make your swimming experience easier, and be aesthetically pleasing.  My Pool Direct have a multitude of options to choose from, including various designs and colours depending on your taste.
Bespoke Family Pools
More families are choosing to have 'staycations'.  This may be due to cost or personal circumstances, but either way, we have a range of bespoke family pools to choose from.  The pools sit in-ground and are simple to install and is a speedy process. The Dura Polymer is sturdy and durable and will withstand all the elements.  Regardless of the size of your garden, our bespoke family pools will suit all requirements.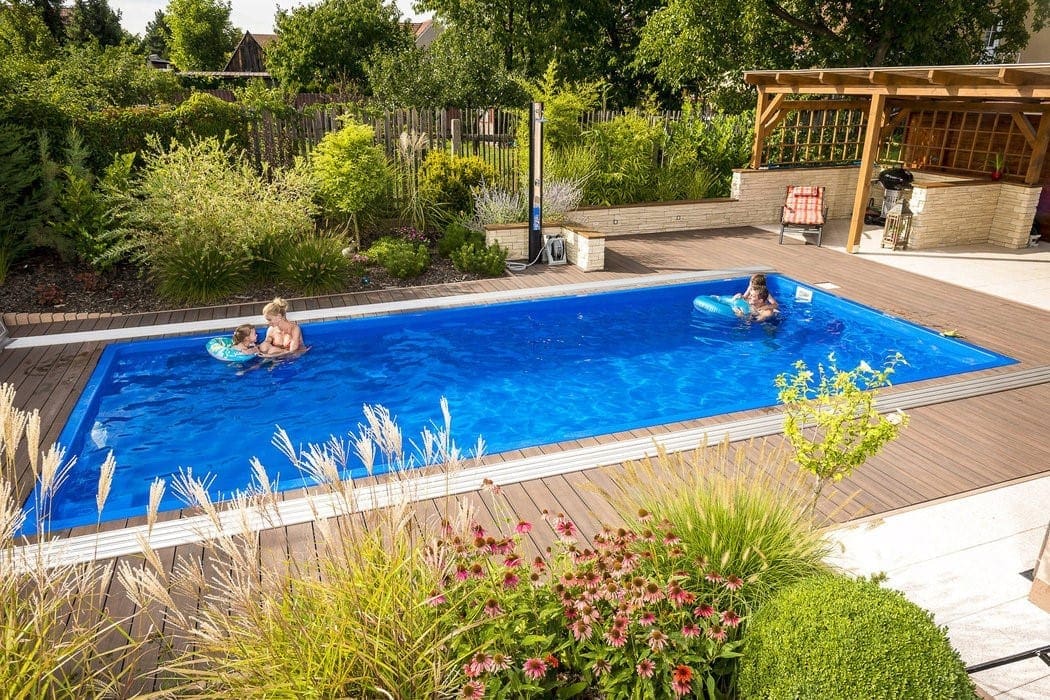 Stainless Steel Pools
Stainless steel will not require too much maintenance to keep it looking great.  It is a durable material that will stand the test of time, with minimal damage from UV rays needing fewer chemicals than some other pools, will not crack or discolour.
Although concrete would be some people's first choice for their pool as it provides good foundations and structural support for floors and walls, it isn't watertight like stainless steel.
Hydrotherapy Dog Pools
It isn't just humans who enjoy a splash in the pool!  Our Dura Polymer Hydrotherapy Dog Pools provide your family pet with a safe place to exercise and have fun.  They will enjoy the warmth of the water and can be used to speed up recovery after an accident or operation. They are also an option for dog owners who want their furry friend to lose weight and have a healthy lifestyle.
For more information on our range of bespoke Dura Polymer Pools, or for advice on the best pool for you and your family, please don't hesitate to contact us and we will be happy to help.